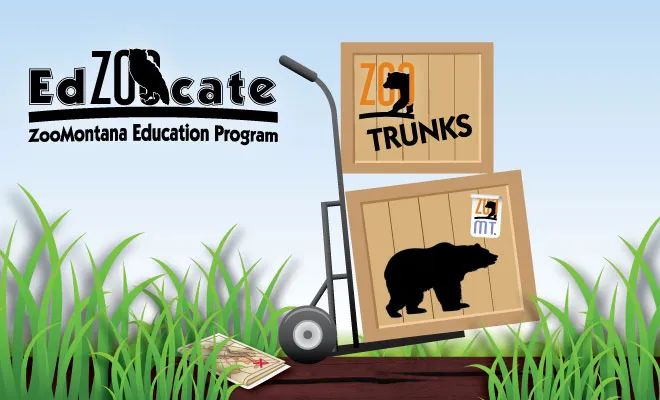 EdZOOcate ZooTrunks
EdZOOcate ZooTrunks allow you to bring part of the Zoo to your classroom. These trunks contain props, biofacts, and other hands-on items for your students to explore, as well as a binder with valuable background information for instructional use.
What: Biofact Trunks for your classroom use. Rental periods of one week.
Cost: $40 per week. Borrower must pick up and return trunks to the zoo.
How: Email outreach@zoomontana.org to reserve and schedule pickup.
Prepayment is required. Late returns are subject to additional week rental fee.
Available ZooTrunks
Bears
Background Information Binder
Grizzly Bear Hide
Bear Skull
Casting of a Grizzly Bear Print
2 Books: Zoobooks:Bears x2
Black Bear vs. Grizzly Bear Poster
Paw Print Posters
Owner of the Earth: Grizzly Bear Educational Activities
Bear Spray Canister
Black Bear Claws
Dinosaurs and Fossils
Dinosaurs and Fossils Background Information Binder
Brachiopod Fossils
Clam & Snail Fossils with Green Display Cloth
Fish Scales on Rock
Deinonychus Skull
Oyster & Squid Fossils
5 Claws: Utahraptor, Allosaurus, Deinonychus, 2 Velociraptor, Therizinosaurus, and "Hand" Claw with Joint
1 Tooth: Tyrannosaurus
Dinosaur Bone Pieces
Dinosaurs of Montana and Activities Packet
Reptiles and Amphibians
Reptiles and Amphibians Background Information Binder
4 Posters
Bull Snake Shed
Reticulated Python Skin
Turtle Shell
Frog Development Case
2 Small Snake Skin Sheds
Amphibian Alert Activity Booklet with Disk
Other Zoo Outreach Resources