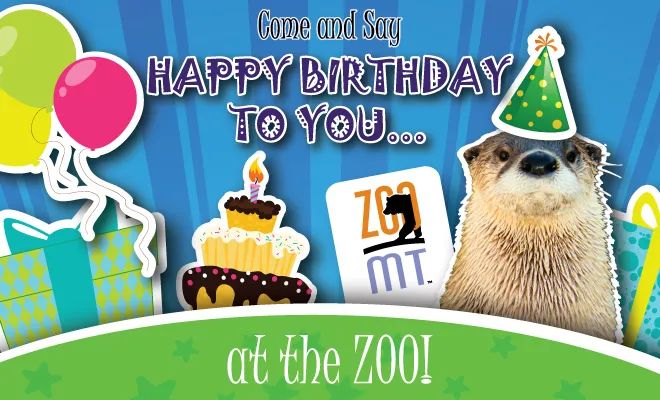 Birthday Parties
*Due to lack of indoor space, birthday parties are currently only available during our summer season (May-September). BUT do we have exciting news to share! Construction on a brand new indoor meeting space is planned for this winter. We look forward to hosting your Fall/Winter parties starting in October 2022!*
Our party rental gives you access to our Planet 106.7 Pavilion (spring/summer) for 2 hours and unlimited access to the Zoo!
Pricing
ZooMembers – $165
Non-members – $195
What you get:
Admission and party space for up to 24 people
20 party invitations/admission tickets to the Zoo (plus 4 tickets for birthday child and 3 family members)
Private Animal Encounter with an EdZOOcate Animal Ambassador
$15 Gift Shop Certificate for the Birthday Child
Spring/Summer parties available Saturdays and Sundays, May 1 – September 30 starting at 11am or 2pm (two parties per day)
Enhance your party experience with:
Additional Animal Encounter – $25 for ZooMembers/$50 for non-members
Policies and Procedures:
Full payment is due upon booking your party at the Zoo.
Full refund available up to 14 days prior to scheduled party, upon return of party packet (including 24 party invitations/admission tickets and $15 Gift Shop Certificate.)
No balloons or straws are allowed on Zoo grounds for the safety of the animals.
Outside food and beverages are permitted.
Please note that each birthday party space does NOT currently have a restroom. Restrooms are located in the Zoo's Discovery Center.
How to Schedule:
Call 406-652-8100 x218 to reserve your date and select from available time slots.
Prepay and receive your complete Birthday Party packet.
Send out invitations to guests!
Party like an ANIMAL!
Animals available for Animal Encounters
Please give first and second choice – animals subject to change at the last minute.
* Animal availability is subject to change without notice. Handlers will do their best to accommodate guests to provide the best experience possible, but due to the nature of animals, we ask that parties be understanding of unforeseeable changes to ensure the health and well-being of our Animal Ambassadors, Handlers, and Zoo Guests.