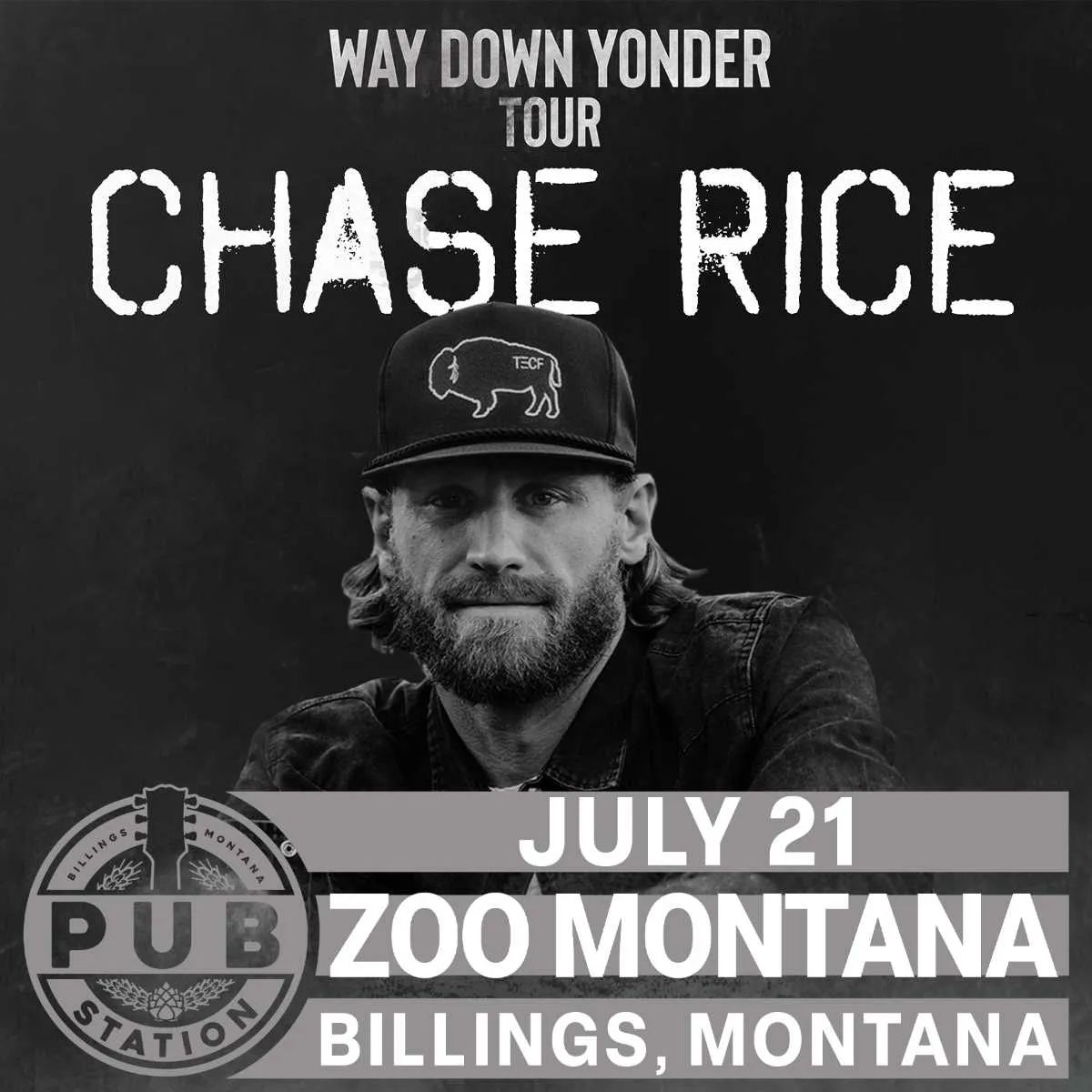 Chase Rice: Way Down Yonder Tour
Friday, July 21st
Show | 6pm // Doors | 5pm
Ticket Prices Currently Available:
Ticket Sale Dates:
GA - STANDING Public Onsale: March 24, 2023 10:00 AM to July 20, 2023 11:59 PM
Chase Rice
With more than 2.2 million albums sold and over 2.1 billion total streams, plus a legion of passionate fans at his high-energy concerts across the globe, Chase Rice has established himself as a powerful force in Nashville and beyond – yet as he crafts a new album in his rural Tennessee home-turned-studio, he genuinely sees recent single "If I Were Rock & Roll," available everywhere now, as the launching pad for music that says what he wants to say, how he wants to say it. The song serves as a follow up to his three-part project, The Album, featuring his latest No. 1 hit, "Drinkin' Beer. Talkin' God. Amen. (feat. Florida Georgia Line)" and Platinum-certified Top 10 hit "Lonely If You Are."
For more information, visit www.ChaseRice.com and follow Rice on Facebook, Twitter and TikTok @ChaseRiceMusic and on Instagram @ChaseRice.
Pub Station Concerts at ZooMontana - Rules and Policies:
Weather: The concert will be held rain or shine. Be prepared for extremes such as heat, wind or rain. Dress accordingly, as the temperature may drop noticeably after sunset. No umbrellas please.
Smoking: NO smoking (cigarettes, e-cigarettes, cigars, pipes, etc.) is allowed on ZooMontana grounds with the exception of the Smoking Area that will be near the front gate.
Photography: Cameras with removable lens, video cameras and recording devices are not allowed.
Food and Beverages: Food and beverages will be available for sale. You are allowed 1 bottle of 16.9 ounce of factory sealed bottled water. No other food or beverages will be allowed.
Seating: ZooMontana is a standing only venue.
No Re-Entry: Once you have entered through the gates, you may NOT exit and re-enter.
Zoo Access: Animals will not be on display during concerts. Access past the Zoo's plaza is prohibited.
Prohibited items:
• All large bags, cases, parcels and containers are subject to inspection upon entering the venue site.
• Alcoholic beverages
• Animals (exception for certified service animals)
• Bicycles, scooters, skates, Segway's, golf carts or unauthorized means of transportation.
• Coolers or picnic baskets
• Distribution of unauthorized promotional or commercial material.
• Firework, explosives or any other incendiary devices.
• Glass or metal containers
• Aerosol cans or illegal substances
• Weapons of any kind, including guns, knives, pepper spray or handcuffs
• Items that may be deemed a safety hazard or annoyance to participants or guests (balls, frisbees, balloons, any type of projectiles, whistles, musical instruments, laser pointers, etc.
• Large umbrellas, tents or canopies